LEARN SPANISH 100% ONLINE WITH A NATIVE TEACHER THIS 2023!
ONLINE SPANISH TEACHER. SPANISH CLASSES BY SKYPE! SPANISH COURSE WITH ZOOM or WHATSAPP!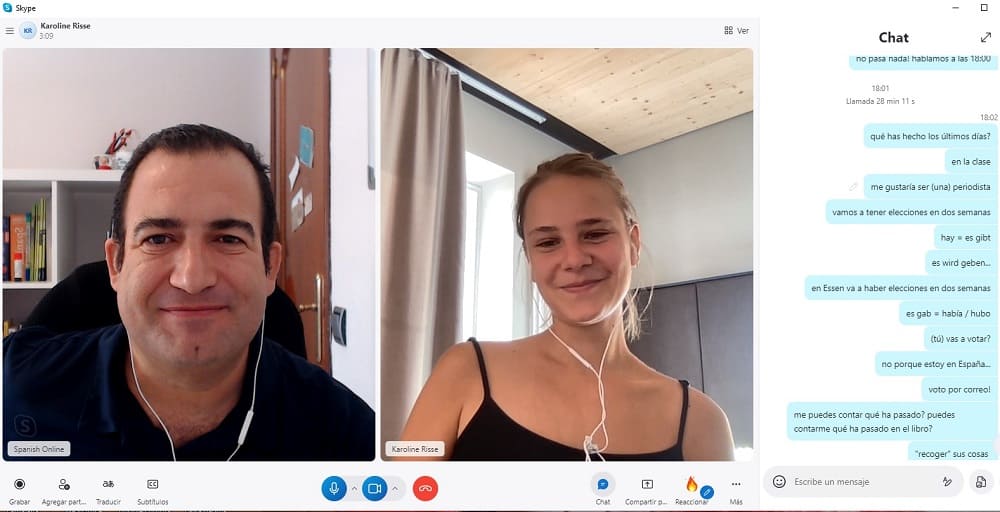 Spanish is spoken in 22 countries; it's the third most spoken language in the world. Now you can study Spanish in the comfort of your home with online classes via Skype, whether you're a beginner or an advanced student.
If you want to learn Spanish but can't attend Spanish lessons in person, we have the solution. We offer Spanish classes online via Skype, Zoom or WhatsApp, equal to or superior in quality to Spanish language instruction offered in a physical classroom, but with the added advantage of having your tutor's undivided attention at a time and place of your choosing.
TRY OUR SPANISH ONLINE LESSONS
Are you learning Spanish and having these problems?
Struggling to find enough time to attend a Spanish class.
Working from home or at home with children.
Unable to find suitable teachers.
Too tired to go out after work.
Our Spanish classes Online solve them! You can enjoy these Spanish lessons at a convenient time for you, in your own home.
Online Spanish courses with qualified and experienced Spanish teachers with Skype, Zoom or WhatsApp.
30 or 60 minute skype Spanish lesson.
Years experience of helping GCSE and A level students to get the highest marks in Spanish.
Essays and translations can easily be corrected.
Practice for your oral exam with a native Spanish teacher via Skype, Zoom or WhatsApp.
Yes, you can learn Spanish, no matter your age. People in their 40's, 50's, 60's and more who have never studied Spanish have learned to converse. The only factor that determines how far you can go is the rule that states, "what you get out is what you put in." Age is most definitely not a determining factor.
Spanish courses online offer many advantages over study in a class – room in terms of convenience, flexibility and self-targeted study from your chosen location, day and time. If you're not yet familiar with Skype, Zoom or WhatsApp, we can walk you through its easy installation
WHAT STUDENTS SAY
ABOUT US
Elles & Thijs. Holandeses en Madrid
"Las clases de español online son perfectas para nosotros porque normalmente mi marido viaja mucho por su trabajo y porque podemos seguir las clases juntos. En el periodo de cuarentena estaba genial también! Jerónimo es un profesor muy amable y profesional. Puede improvisar cuando tenemos preguntas y tiene muchos ejercicios para aprender la gramática."
Kate McDonald, Ireland
I recommend online lessons to anyone learning Spanish who does not have access to a native Spanish speaking tutor as this is reason why I began online lessons. I live in a rural area and I could not find a native Spanish tutor nearby. I find the classes as good as one to one real life tuition with the advantages that I am in my own home and I don't have to spend extra time travelling to lessons. There is a lot of flexibility with regard to days and lesson times and that suits me as my work/ life commitments vary from week to week. My tutor is Jero and I am very happy with his teaching.
Antoine, Francia
"Mi nombre es Antoine, tengo 16 años y estoy aprendiendo español con Jerónimo. Puedo decir que aprendí más en 1 mes con él que en 1 año en la escuela secundaria. Es divertido, agradable, no vemos pasar el tiempo. Aumenté mucho mis calificaciones en la escuela gracias a este método, especialmente mi habilidad para hablar, y lo recomiendo."
C.K. Tchorznicki. New York, United States
I have been taking Skype classes with Jero for over four years, averaging around seven sessions per month. I have unambiguously benefited from the conversations; my Spanish has progressed by leaps and bounds. Whether you are looking to acquire a more neutral Spanish – sort of what Univision would serve up here in the U.S. – or seek deep-dish Castilian expressions, Jero can deliver it. He is well educated and well rounded, thus capable to delve into just about any topic. However, he is strict about correcting glaring mistakes and makes sure that while you are advancing forward, your foundation does not erode.
Melanie Harris, Adelaide, Australia
I really benefitted from the Skype sessions from Spanish Online Courses. My teacher, Trinidad Caballero, was friendly and easy to learn with. From the start she identified and worked from my existing (limited) level of Spanish so I could improve without feeling stressed. Trinidad responded to my requests on what we should cover and had additional ideas when I needed some direction. She was happy to time our sessions to fit with my Australian time zone and my availability. I would really recommend these Skype sessions to other learners who want some one-on-one tuition.